Choosing an orthodontist for you or your child is a big decision! We've put together a guide with the top 10 questions you need to ask in order to choose the best orthodontist for your needs. Since most
orthodontic treatment plans
are long-term, you'll want to make sure you're comfortable before you move forward with straightening your smile.
How to Choose the Best Orthodontist for your Family – The Top 10 Questions to Ask!
---
Choosing an orthodontist for you or your child is a big decision! Since most orthodontic treatment plans require multiple appointments and span longer than just a couple months, you'll want to make sure you're comfortable with the orthodontist and their practice before you move forward with straightening your smile.
Selecting the best orthodontist for you can seem complicated or confusing. This is especially true if, like most people, it's your first time navigating orthodontic treatment. Talking to a friend or family member who has experience and recommendations can be very helpful. In addition, we've put together a guide with the top 10 questions you need to ask in order to choose the best orthodontist for you and your family!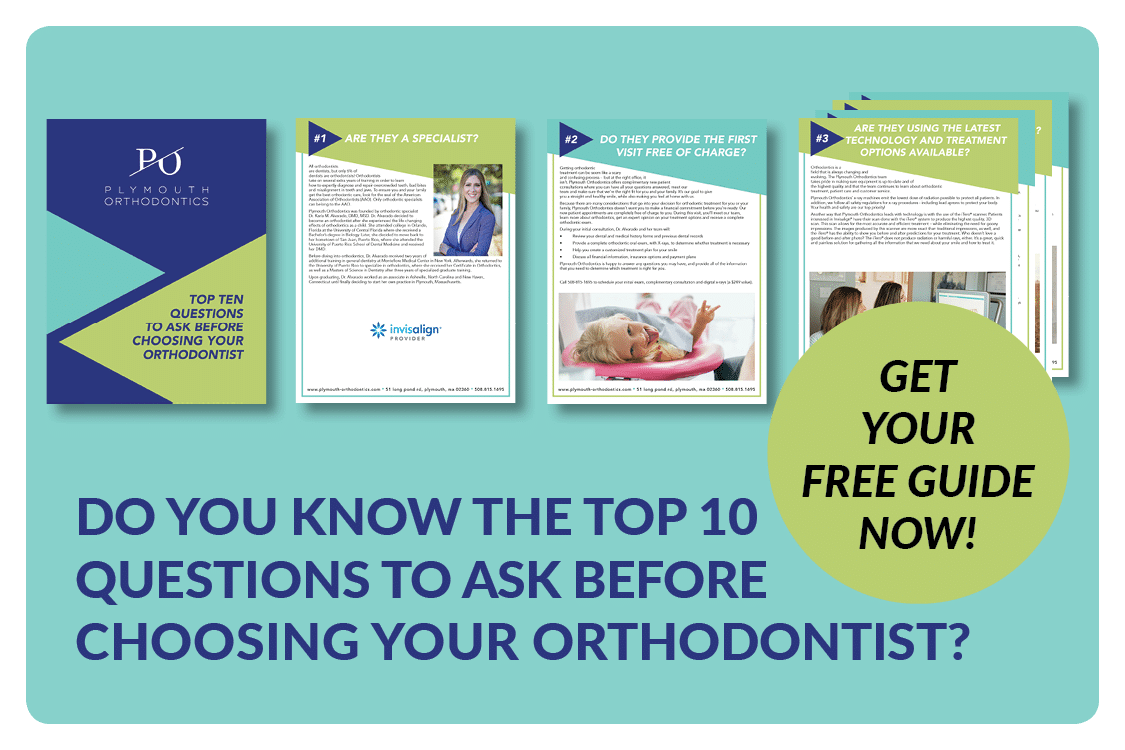 Before you begin asking questions or scheduling consultations, get a broad view of your options by doing a Google search. Check out the orthodontic offices nearby your home, work or school to see what the most convenient locations are. Then, read the offices' google reviews to see what their patients are saying. While you're checking the office out, try to find out if they take your insurance. At Plymouth Orthodontics, we file with MassHealth, Medicaid, and all private insurances. We also offer flexible payment options, accept all major credit cards and offer third-party financing through Care Credit.
Once you review your local orthodontists' location, reviews and website, you will have some clues about whether the office will be a good fit for you and your family or not. We recommend scheduling a free consultation to ask questions and find out more about the office. At Plymouth Orthodontics, we believe your first visit should be free, because we know there are many considerations that go into your decision for orthodontic treatment for you or your family, and we don't want you to to make a financial commitment before you're ready!
To make the most of your free consultation, come prepared with our Top 10 Questions guide and your own personalized questions. In preparation, think in detail about you and your child's lifestyle, and your plans for the next couple years during treatment. Consider when would be the best times for appointments, and kind of special care you or your child may need, how you would prefer to finance orthodontic treatment, and any other concerns you have want to ask the orthodontist about. Then you'll be ready to confidently make your orthodontic treatment decision!
During your complimentary consultation at Plymouth Orthodontics, you'll meet our team, learn more about orthodontics, have your questions and concerns answered, get an expert opinion on your treatment options and receive a complete orthodontic exam.
During your consultation, Dr. Alvarado and her team will:
Review your dental and medical history forms and previous dental records
Provide a complete orthodontic oral exam, with X-rays, to determine whether treatment is necessary
Help you create a customized treatment plan for your smile
Discuss all financial information, insurance options and payment plans
Answer any questions you may have, discuss any concerns you may have and provide all of the information that you need to determine which treatment is right for you.
With a little preparation and our Top 10 Questions guide, you'll be all set to choose the best orthodontist for you and your family. Download your guide now to get started today! Once you review your guide, let us know if you have any further questions and reserve your free consultation at our office ASAP – spots are filling up quickly!